Re-polish Table of Gem while in Ring
---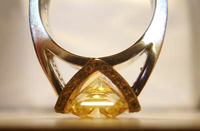 We can re-polish the table of a faceted stone while it is still in the ring. This is usually the only facet that can usually be re-polished on a stone that is in the mounting.
This can be done if there are no obstructions above the level of the table. See example --->
To test this, see if you can place the ring "table down" on a table top or store countertop. Observe if the table of the gemstone is resting flat on the countertop. If so, then we should have no problem re-polishing the table of the stone.
There have been a few times when we were also able to do the row of star facets surrounding the table. This is sometimes possible if the crown of the gem sticks up well above the rest of the ring.
See examples below of Tables of gems we have re-polished while in the Mounting.