Re-Polishing the Tops of Gemstones while still in the Ring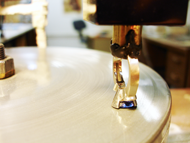 The top of your gemstone can get scratched and pitted after years of wear.
We can usually re-polish most of the top of your gem while it is still in the mounting.
By re-polishing the gemstone while it is in the mounting, it saves the cost of removing and re-setting the stone, and also the risk involved when a gem is removed and re-set.
For an estimate on re-polishing your stone while in the ring, contact us at 303-745-9422 or Email us.