Examples of Gems we have Drilled
---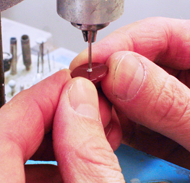 We can drill pretty much all types of gemstone materials except for diamonds.
Before drilling a gem, we examine it to see if there are cracks or other issues which will cause a problem during drilling and we discuss those issues with you prior to drilling your gems.
The smallest holes we can drill are 1 mm.
If you need holes drilled which are smaller than 1 mm, see our section on Ultrasonic drilling.