Re-polishing the Crowns of Gemstones (or pavilions)
---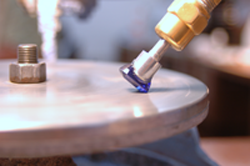 We can re-polish the crown of your gemstone and make it look like new again!
Weight loss: We remove only the smallest amount of the gem to remove the scratches and chips.
Cost estimates: Contact us with photos and a description of your stone and we will give you an estimate of your approximate cost.
The cost to re-polish a gemstone is a function of 3 factors: Type of Material, the Size of the stone, and the Complexity of the cut.
See these examples of Crowns we have Re-polished
Re-polishing faceted gems involves mounting your gem in our faceting machine and finding all of the angles of the original facets. I then polish each facet until the scratches and chips are gone and the new facet has a bright polish.
In the process of re-polishing the crown, I always try to align the facets better than when the stone was originally cut. Most stones which are cut overseas are not cut very symmetrically and the facets do not meet very well. I am able to tweak the facets this way and that way in a manner which makes the facets meet and result in a nicely cut stone which adds to the brilliance.
---