Gemstone Drilling service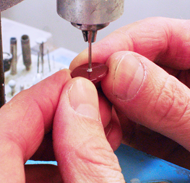 If you need holes drilled in your cabs, inlays, or other gems, we can do most drilling that you may need. We do have some limitations such as thickness of material but for gemstone and jewelry applications, we can handle most everything.
See our categories below which take you to galleries of photos showing drilling jobs we have done.
For an estimate on drilling your gemstone, contact us at 303-745-9422 or Email us.

See Examples of gemstones we have Drilled ...
---

See Examples of gemstones we have
Drilled with Counter-sinked holes ...
---
For certain drilling needs, Ultra-sonic drilling is the best way to drill the gemstone. We do not have an Ultra-sonic drill. Go to our page with information about ultrasonic drilling of gemstones and see how to contact the company who can do the Ultra-sonic drilling for you.
---