Cufflinks and Tux Studs Inlaid with Carved
Black Jade with Diamond Sliders
---
The jewelry designer wanted 2 special things done with this project.
He wanted the Black Jade to be carved and sculpted and also to have me carve channels for diamonds to be inserted so that the diamonds would 'slide' back and forth.
I had to carve the channel at just the right width and then use small diamond files to make bearings for the girdles of the princess cut diamonds to fit into.
The diamonds were then inserted into the channels and the inlays were glued into place.
Then the outer carved areas were carved with the inlays in place so that the Black Jade and the gold around the inlays would be perfectly flush.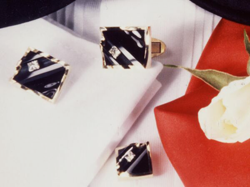 Cufflinks and Tux Studs with Black Jade
At left you can see the finished cufflinks and tux studs with Black Jade

I wish I had better photos of these. This was done many years ago before I started taking a lot of photos.