I Re-cut this Blue Sapphire into a cushion shape
to close the Window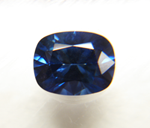 A jeweler send me the Blue Sapphire pictured below. The stone was shallow and had a bad window, as you can see. He could see the potential in the stone and asked me what it would take to close the window.
I suggested that we could turn the round Sapphire into a rectangular cushion cut which would have a narrower width and would preserve the 'length' of the stone, thereby saving some weight. The jeweler liked the idea of a cushion cut.
Below, you will see photos and description of the cutting process.