Re-faceting a Pink Sapphire into an emerald cut Radiant Cut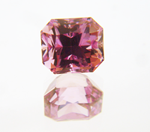 In the photo below you will see the pink Sapphire which the gem dealer had purchased from a dealer in Thailand.
The gem dealer who purchased this stone could tell that it had potential if it was properly cut. He could see that the gem had a very nice pink color and it was also a very clean stone. Maybe flawless.
Below, you will see photos and description of the cutting process.