I Re-faceted this oval Aquamarine to Close its Window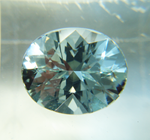 A gem dealer purchased this oval Aquamarine which had been cut in Thailand. They cut the crowns nicely over there, but the pavilions are almost always windowed. The dealer who purchased this stone could see the potential in the stone if the window were to be closed.
I measured his stone and did some calculations and saw that I could close the window for him.
Below, you will see photos and description of the cutting process.