We cut Your Gems the way You want them Cut
Old world craftsmanship using modern day tools
Think of us as Your in-house Gem Cutting Shop
Types of Gem Cutting We Can Do For You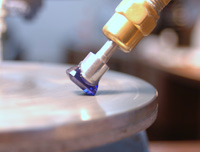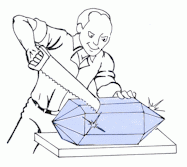 Steps to Meeting Your Customer's Needs
1) Call 303-745-9422 now or
for an estimate.
Show us your project live with Skype
2) Ship the piece to us to perform the work.
(Notes on Shipping)
3) We make sure we understand exactly what
you or your customer needs are.
4) Your customer receives their gemstone or jewelry, and is very happy with you!
---

Current Project We are Working On
We are currently making a watch dial from a rock which came from the Moon. It is for a gentleman who is a collector of rare meteorites.
When this piece is finished we will post the photos of the cutting at the Top Right of this page in our Recent Project box. Please stop back to see it!
If you would like to receive and email from us when we post this item when it is finished, send us an email to This e-mail address is being protected from spambots. You need JavaScript enabled to view it
---
Lapidary Services we offer.
---

We do faceting from rough gem materials as well as repairs to faceted gemstones. We can usually duplicate gems which have been broken and need to be re-made, depending on availability of materials. Our shop is able to re-polish the crowns and pavilions of faceted colored stones and make them look like new again.
---
We do all types of cabochon cutting. Individual stones or production orders. Standard shapes or very unusual shapes. From class ring stones to bullet cabs we do them all.
---

We inlay all types of gem materials into jewelry. We have specialized in doing both simple and complex inlays for jewelry designers for over 20 years.
---

We repolish both cabochons and faceted gems to make them look like new again as well as recutting of gems to close windows and enhance their brilliance.
---


We are usually able to remove scratches or re-polish the tops of cabochon gemstones that are mounted in a ring. We are also able to re-polish the table of faceted gemstones that are mounted in a ring as long as there are no obstructions above the level of the table of the stone.
---

We do special gem cutting to your specifications to accommodate your designs. You design it and we cut it the way you want it cut. There are few lapidary shops left which do custom gem cutting.
---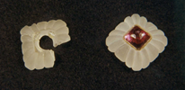 We do most kinds of gemstone carving. Only a very few shops will do gem carving. We can also re-sculpture carvings to make them look like they were never broken.
---

If you need holes drilled in gemstone materials for diamonds to accept a tube with a diamond or to put a chain through the stone, we can do that.
---


We are able to restore antique one of a kind pieces that many gem cutting shops will not attempt. We have been able to restore intricate gem carvings originally produced by the famous shop of Cartier.
---

We are able to put permanent white printed images on black Onyx with laser technology. See our link on the upper left of this page to see examples of what this art form looks like.
---


We have also developed a reputation over the years for being experts in cutting all types of star gem stones. From star sapphires to star ruby and star diopside to star quartz. We can re-shape stars which may not have been properly shaped when they were originally cut. This usually improves the star.
We cut many forms of cats eyes, from cat's eye chrysoberyl to cat's eye tourmaline.
---

We repair Munsteiner cuts and other forms of fantasy cuts. Fantasy cuts are a unique type of gem cutting which requires unique lapidary techniques to work on them.
---

Over the years we have made watch dials for a variety of watches such as Rolex, Patek Philippe, Piaget and others. We have made them from materials such as Lapis, Black Onyx, Mother of Pearl, Tiger Eye, and Dinosaur bone.
---

We have a large stock of the materials commonly used in our projects, so we can get right to work on most projects without having to order the required materials. We are a full service lapidary shop!
---

After a refractometer has been used for a number of years the soft glass of the hemicylinder can get scratched and pitted which makes it very difficult to get a good reading. New refractometers are very expensive. We are able to re-polish the top surface of the glass and make them like new again..
---